Numismatics - Rare Collector Coins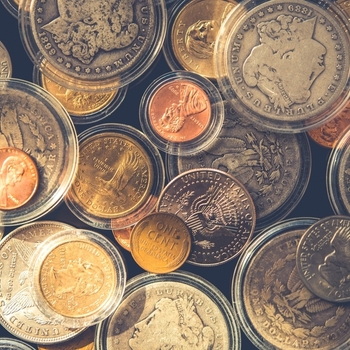 Choose Silver Bay Coin & Bullion, Inc. to receive top dollar for your old, rare coins or to diversify your portfolio. We're always looking to purchase rare collector coins and we can accurately, discreetly and professionally appraise your coin collection.
Rare coins add not only value, but also beauty to any coin collection. Just knowing how much history your holding is a marvel. If you need a rare coin appraised stop by our store in Melbourne, Florida today. We take great pride in each step of the process whether is selling or appraising rare, old coins and coin collections.
A few examples of rare coins include, but are not limited to:
1909- S V D.B Lincoln Cent – In 1909, the design was changed on this our one cent coin from the Indian head to a design that commemorated the 100th anniversary of President Abraham Lincoln's birth.
1921 Peace Dollar – First produced in December 1921, the idea behind the coin was to commemorate the peace that followed the "Great War".
1878-CC Morgan Silver Dollar – In 1878 the U.S. congress passed what is known as the Bland-Allison Act. This act required the government to not only purchase large amounts of silver but to turn it into silver dollars.
1914-D Lincoln Cent – The mintage of this coin included 1,193,000 coins produced. That being said, what makes this coin desirable is the fact that uncirculated specimens were not saved in the same quantities that the 1909-S VBD coins were. Due to this, they are more rare.
1955/55 Doubled Die Lincoln Cent – Extremely popular among Lincoln Penny collectors and undoubtedly, the most famous "error" coin ever produced by the U.S. mint.
1937-D 3-Legged Buffalo Nickel – Another error coin that gained popularity with collectors, the details for the front leg of the Buffalo on the reverse side of the coin are missing, kaking it appear as a 3-legged buffalo.
1916-D Mercury Dime – The proper name for this coin is the "Winged Liberty Head Dime". It was another coin that was a part of the American Renaissance.
1917 Standing Liberty Quarter: Type 1 – The 1916 Standing Liberty quarter is extremely rare and expensive. Originally produced in 1916 with a limited mintage.
1932-D Washington Quarter – First produced in 1932, the intention was to be a one-year commemorative coin to commemorate the 200th anniversary of George Washington's birth. The design was adopted in 1934 and is still in use today,
1908 St. Gaudens Arabic Numerals No Motto – Many numismatics speculate this is the most beautiful coin ever made by the U.S. mint. The coin features lady liberty on the front and an American gold eagle on the reverse side.
Contact Silver Bay Coin & Bullion Inc. today if you have a rare coin collection and are looking to get it appraised or it you are looking to expand your portfolio and invest in rare coins.